5. Tasks¶
In this chapter we explain how to work with Tasks. After reading this chapter, you will be able to create a task, to assign them and to use the To-Do List Overview. It is also possible to share your task folders and to open the shared ones. An explaination of that can be found in Sharing Folders.
5.1. Create a new task¶
A task is created with the following steps:
Select the folder Tasks.
Use the button New to create a new task.
Fill in the preferred fields.
Use the Save button to confirm.
5.2. Task requests¶
Task request differs from a regular task in that it can be assigned to someone. When clicking on Assign Task, a To field appears where the assignee's address can be filled or it can be selected from the address Book using to To button.
A task request can either be accepted or declined by the recipient. It can be done by clicking on the corresponding Accept/Decline button Upon reading a task request, a corresponding assigned task is created in the assignee's tasks folder.
Note
If the assignee chooses to assign the task to someone else, the new assignee becomes the owner.
When a task request has been accepted, the assginee can make changes to any of the fields of the task. The changes can be saved via the corresponding Save button. If the person whom assigned the task chooses to track progress, an 'task updated' message is sent once the assignee saves changes
Note
A task update report is always sent when a task is accepted, declined or completed.
Once the assignee has completed the task, the assigned task can be marked as complete. This will send a 'Task Completed' message to the person whom assigned the task.
5.3. To-Do List Overview¶
In the Tasks application the To-Do List is used to have an overview of the to-do's (tasks and flagged items):
To show a list with the to-do's (tasks and flagged items) either in a Simple view or a Detailed view.
To show a dialog to view or edit an item from the list. Or to create a new task. On top of the dialog there is a toolbar with buttons to save the item, delete the item, set a new flag to the item, mark the item as complete, add attachments to the item, print the item, add categories to the item and to mark the item as private.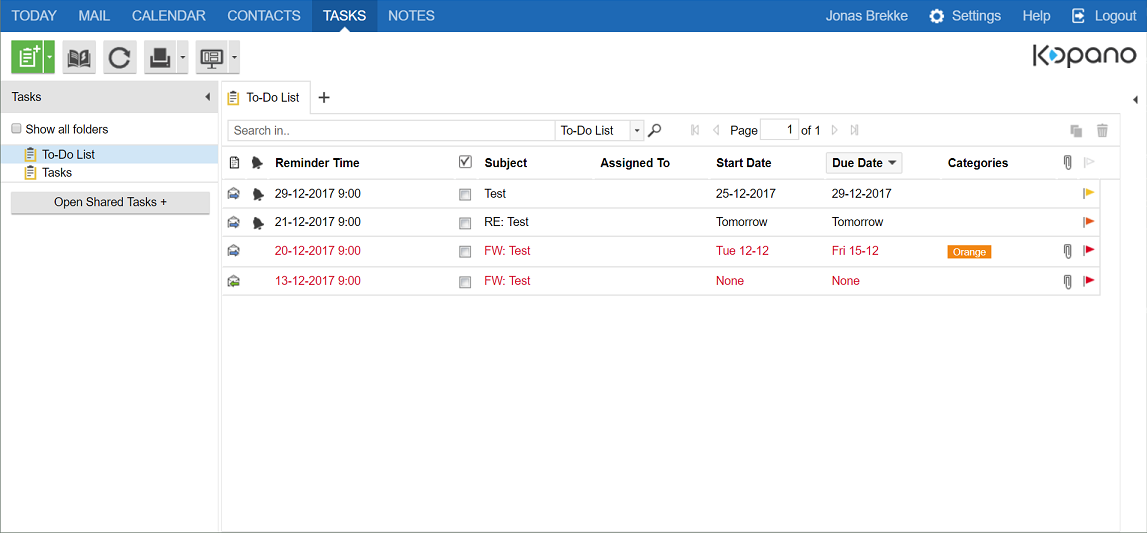 Note
A flag is set depending on the Start date and the Due date of the task. When Start date is set to Monday of next week and the Due date is set to Friday of next week the 'Next week flag' will be shown.
Note
Overdue flagged items are styled in red. Overdue tasks are styled with a strike-through.