5. Archive configuration¶
kopano-archiver is configured in a configuration file, that can be specified on the command line using command line option --config or -c. When no configuration file is specified from the command line, Archiver tries to find a default configuration file named archiver.cfg located in /etc/kopano/. Please note that when no configuration file can be found, information required to proceed is missing. In such a case Archiver will emit an error message and exit.
Depending on user requirements, Archiver can be configured in many different ways. Five different stages in Archiving can be distinguished, of which any subset can be used. This chapter describes a basic setup. Later more advanced configurations using more complex combinations of stages will be presented.
The five stages of Archiving are: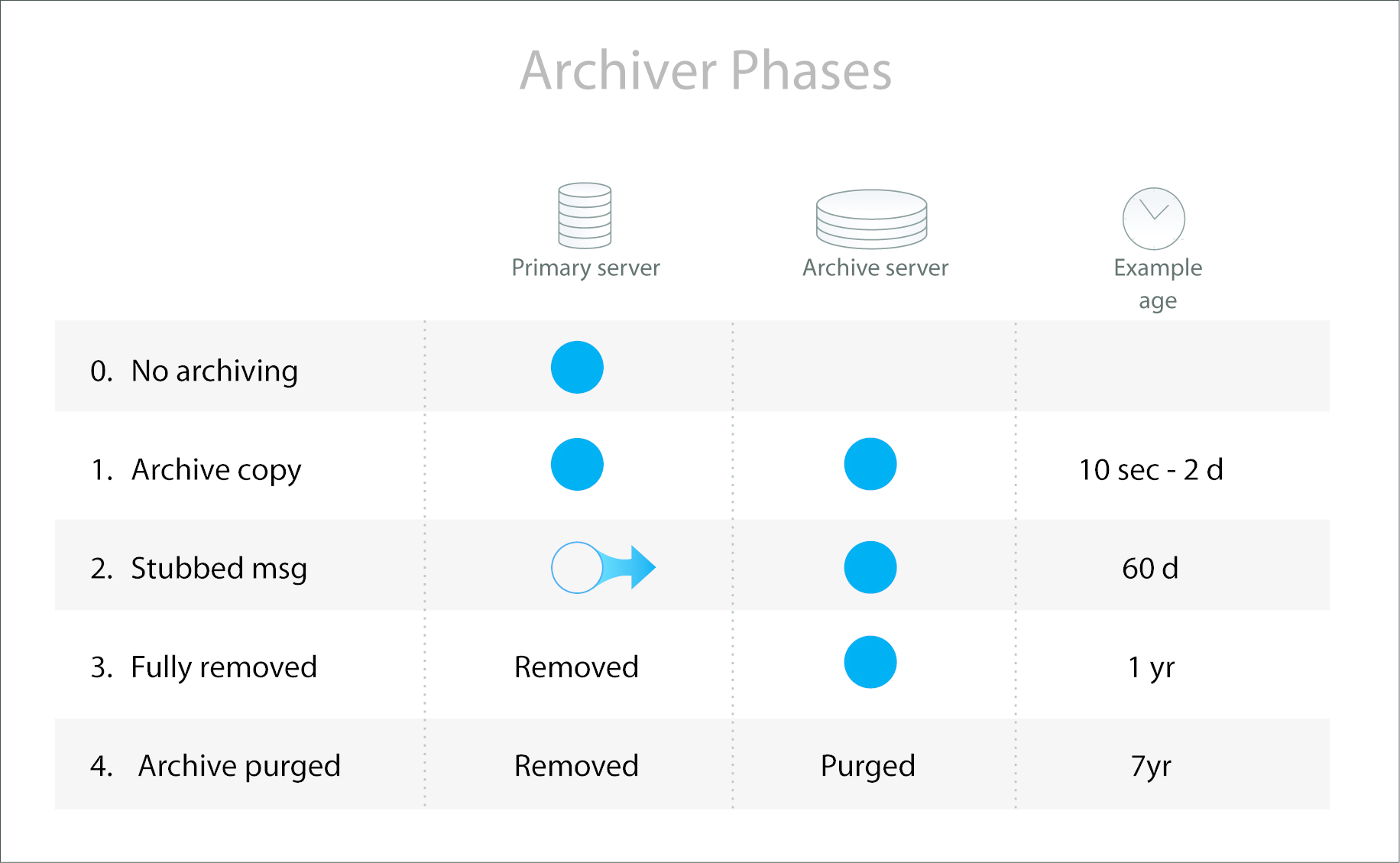 Figure 4.1. Archiver stages
Archiving solutions have different stages to process the email data. Below the four stages of the archive process are described. The ages listed in the rightmost colums are examples only.
Every of these stages can be configured in the configuration file of the Archive Controller. Before deploying the Kopano Archiver make sure the configuration options are carefully set according to the archive strategy. The default installed configuration will only copy message items from linkes mailboxes to the archive mailboxes.
Table 4.1. Archiver stages
| Stage | Description |
| --- | --- |
| No archiving | No archive store exists and no messages are archived. |
| Archive copy | All messages that are eligible for archiving are copied from the primary store to the archive store. When a copy of a message is made, an internal reference to this copy is placed in the original message. |
| Stubbed message | All messages that are eligible for stubbing are stubbed. A stub is defined as the original message with the body and attachments removed. A message is eligible for stubbing when it reaches the specified minimum age AND archived copies are present. So a message is never stubbed if it's not yet copied to the archive store. |
| Fully removed (Delete) | All messages and stubs that are eligible for deletion are removed from the primary store. A message is eligible for deletion when it reaches the specified minimum age AND archived copies are present. So a message is never deleted from the primary store if it's not yet copied to the archive store. |
| Archive purged | Messages that reached a specific age will be deleted completely from the archive store. In this case messages will not be available on both the primary and archive server. |